Sibylla's Stuff
A Place of Many Wonderful Things!
"Please, Let Me Introduce Myself..."
Hello, my name is Donna Marquart (I am also known as Lady Sibylla in the SCA) and I am living in Ripon, WI these days...
I live in a big old farmhouse along with my husband, three children, a grandson, 11 dogs, 1 cat and two fish...
I originally hale from Villa Park, IL but I escaped through the Cheddar curtain soon after graduating from the University of Iowa in 1972.
I enjoy Stained Glass work, Fiddle playing, Gardening, Camping and both of my grandkids.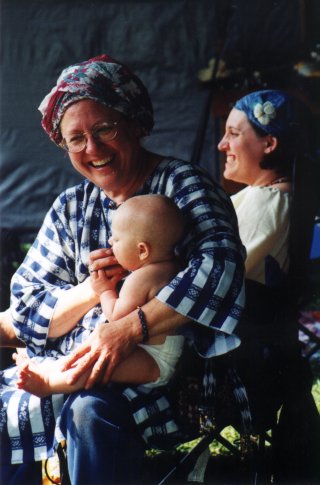 About Me
Oh, No! What happened to my thumb?
Actually the little guy isn't devouring my fingers - it just looks that way!
If truth be told, I seem to become the honorary GrandMa to any and all little ones who come my way.